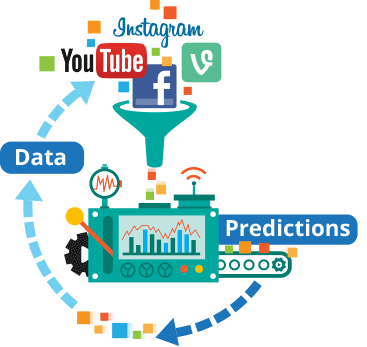 Get the strategy, tools & support you need to reach your goals with expert advice, powerful networking, and convenient resources accessible 24-7.
Your success is so important we won't let you go at it alone. We are here to help, every step of the way. We've worked with thousands of businesses around the world to improve their sales and marketing. We want to help you get organized, grow sales, and save time. 
Our technology and data platform has accumulated millions of social data points across Twitter, Facebook, Instagram, Pinterest, YouTube,  and other platforms. Master the social media strategies that make businesses thrive and get the support you need to succeed.
R! Machine Learning
Discover untapped opportunities across the web, Twitter, Facebook, Instagram, Pinterest, and blog feeds with our proprietary machine learning algorithms. Get a detailed data-based action plan that will guarantee your results before you even start. 
Machine learning involves the construction of algorithms that can learn from and make predictions on data. These algorithms are created to train a machine on relationships between inputs and outputs. Once trained, the machine can then process an infinite volume of inputs and automatically generate their outputs.
Predictive Logic
R! combs through millions of data points and provides recommendations by crunching the numbers on thousands of performance metrics across billions of impressions as well as millions of consumer engagement points. The sheer size of the data set would take a team of hundreds of analysts years to compile; R! yields meaningful insights from these sets in seconds.
Activation
We translate billions of raw performance data points to automated optimization recommendations for each campaign to create better efficiency and time savings for marketers using Twitter, LinkedIn, Facebook, YouTube, and other social platforms. Our technology and 24/7 global optimization teams maximize every dollar spent on cost savings and results.
Analytics
R! Analytics provides a robust personalized interface for each of our clients. The environment is custom-tailored to the needs of our clients and is meant to be the base of operations. R! Analytics Dashboard includes robust insight with comprehensive, customizable reporting that allows numerous different views on campaign data with the graphical representation of complex data sets.
R! YouTube
R! YouTube Is An End-To-End YouTube Optimization Solution That Helps Brands Be More Successful With Video Marketing. Our Suite Of Channel Management Services, R! Strategy, Combined With Our Powerful Video Distribution Network, R! View, And Our Valuable Brand Safe R! Platform, Makes The Rapid Growth Of Channels Effective And Easy. Get Started.
Trending Technology
R!'s platform recognizes trending content and connects brand messages with the most popular threads and videos to capitalize on the next big thing before it goes big.
With R! data-based insights you can understand which ads perform best and where so you can utilize the content context to optimize creative in the future with real-time performance updates.
R! can also help you understand and apply customized audience segments to campaigns to deliver even better performance on contextually targeted programs.
With the R! platform you have billions of data points for reference and can consistently gain meaningful, actionable insights.
Contact us to learn more about how you can tap into the power of our Analytics & Insights