Love is a powerful force. This year, though Valentine's Day shoppers will focus on a force even stronger: Savings.
Rising prices and economic uncertainty have inspired a loving new relationship with deals and discounts. Even so, COVID-19 will not keep couples — or friends and family — from spending!
Over 65% of shoppers will spend over $100 on their Valentine's Day celebrations. So how do you stand out from the crowd with attractive offers?
Click To Tweet
Which marketing tactics are guaranteed to get some shopper love?
Here are 10 trends you should know to help your shoppers fall in love with you this season.
#1. Digital Ads
People are searching for stuff to buy online, and digital ads are still one of the best ways to reach them.
While the number of people who celebrate the holiday is going down, spending is actually going up. According to the National Retail Federation (NRF): "between 2009 and 2019, the average amount consumers planned to spend on Valentine's Day gifts increased by $60." NRF projected 2019 spending in the U.S. to hit $20.7 billion.
Tailor your digital ads to searches. 
Valentine's Day searches start the day after Christmas, build throughout January, and spike from February 11 to February 13.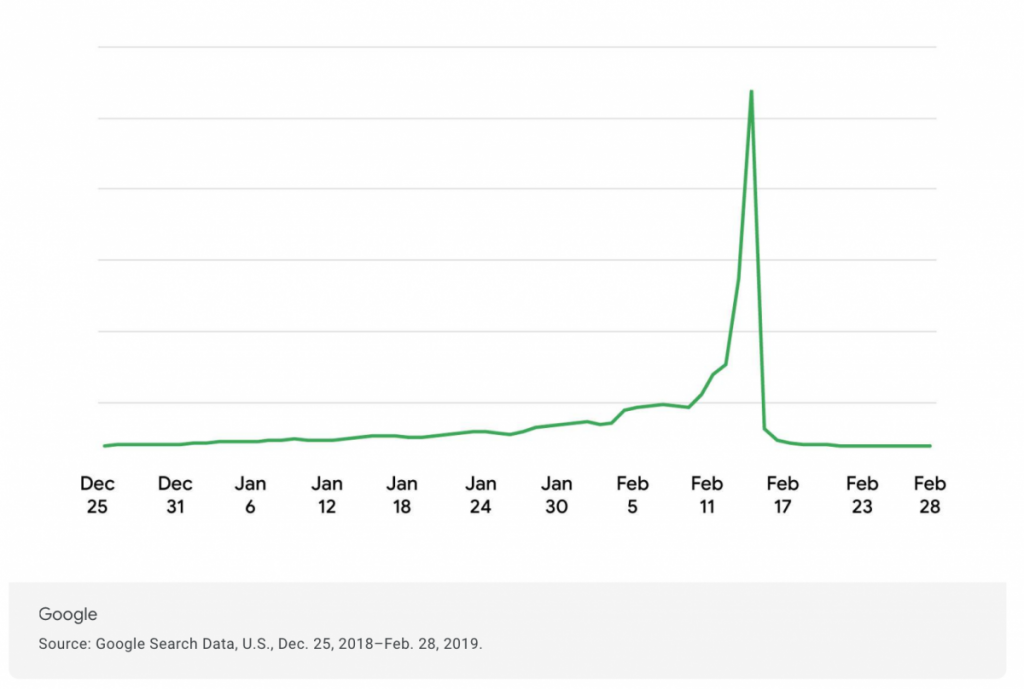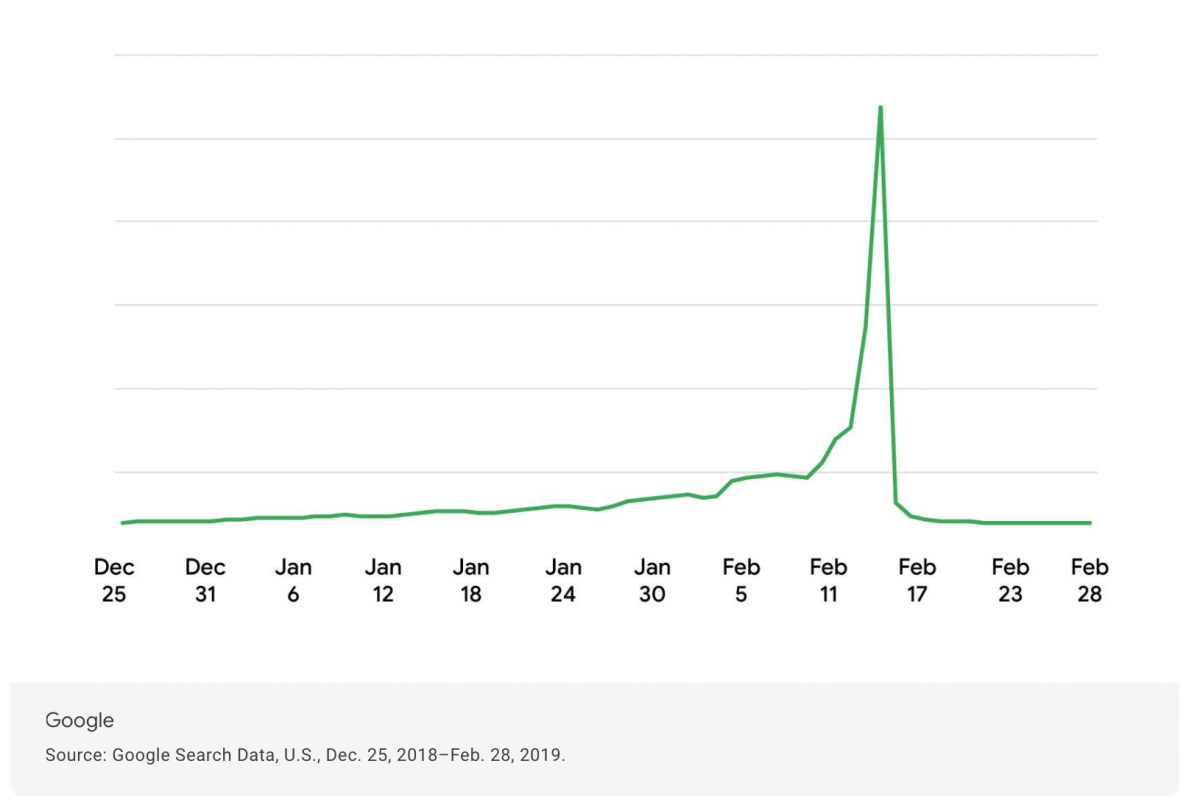 If you're planning digital ads or sponsored content for Valentine's Day, keep in mind important search terms.
Our team at Reactionpower can help you with keyword research and other media buying strategies to generate leads, drive website traffic, and build brand awareness for your business.
Did you know that there are almost as many searches for "valentine" and "gifs" as "valentine" and "gifts" on Valentine's Day?
Click To Tweet
The search for GIFs occurs over a shorter time span, beginning in earnest the week leading up to the holiday, and particularly on February 13 and February 14.
Searches for Valentine's Day quotes actually exceed both GIFs and gifts.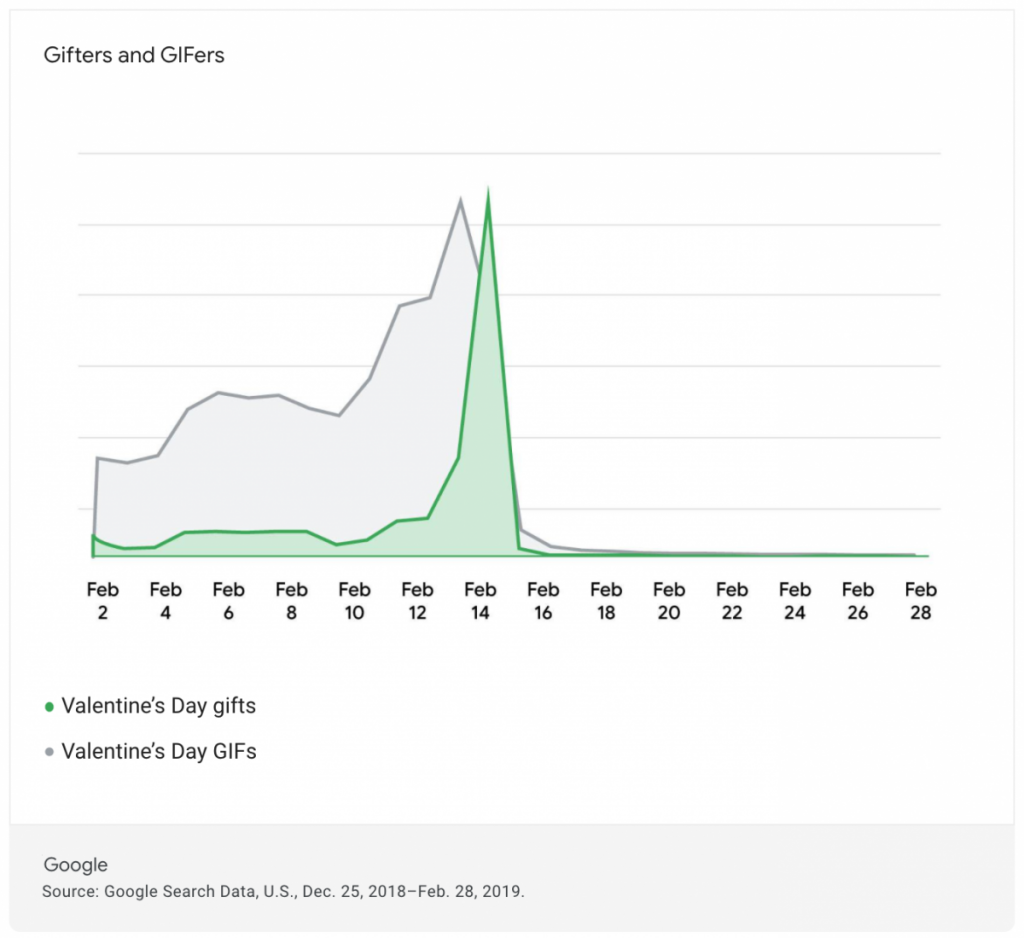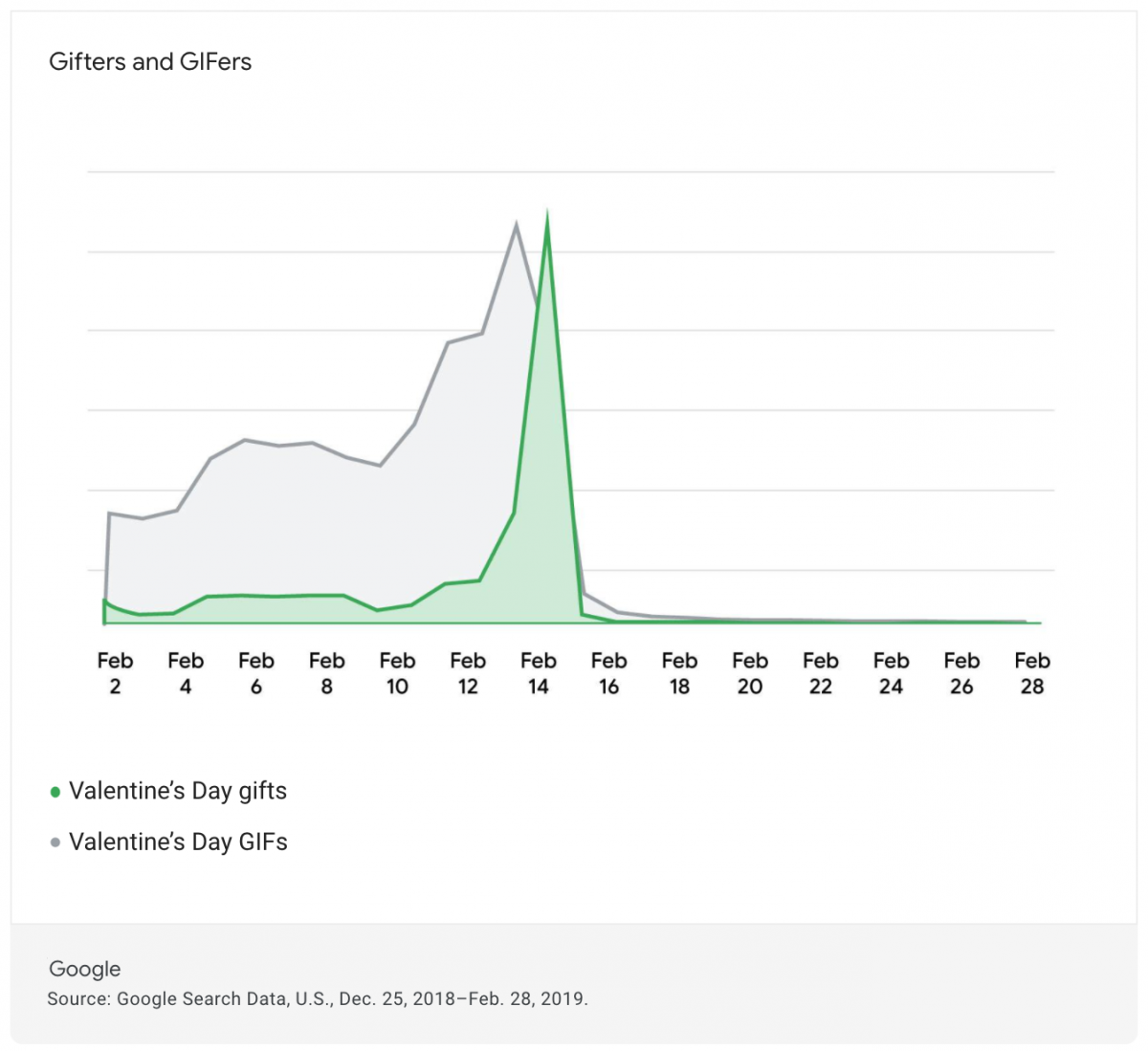 Valentine's Day search terms that include some variation of "for men" ("gifts for husband," "gifts for him") outnumber gifts "for women" 3.5 to 1.
#2. Community Engagement & Influencer content
Community engagement through tactics like leveraging influencers creates relevance and trust which few other marketing tactics can mimic. Pair this with your digital media for a 2.2x higher click-through rate and 13.8x engagement than branded creatives alone.
#3. AI-Powered Chatbots
Send love notes to your target shopper and respond with AI-powered chatbots. Reactionpower will custom design the conversation for your campaign to maximize engagement and conversions.
#4. Personalization
Nothing is sweeter than personalized offers that make a customer feel understood. Leverage first-party shopper data to reach your customer with messages that turn your transactions into relationships and long-term partnerships.
We asked 1591 shoppers to answer some burning questions. In the next set of trends, we share the stats we uncovered to help you make it into their hearts and wallets.
#5. Promotion
People aren't just searching for gifts for partners. They're also searching for gifts for children, pets, and friends, according to Google Search Data in the U.S. Here are the stats from our respondents.
How do you plan to celebrate?
72% with a partner or significant other
24% with pets
18% with family
8% with friends
1% Galentine's Day
#6. Place
There's a place where the customer chooses you. And whether or not the purchase happens online, the purchase increasingly starts there so explore how you can optimize your shopper's online experience to close the deal.
Shoppers typically research, compare, and prepare, before they're finally ready to put dollars behind their decision. The question is: Where will they buy? Here are the stats from our respondents.
Where do you plan to shop for Valentine's Day?
30% online
19% in-store
50% a mix of both
Where do you plan to celebrate?
Respondents stated they planned to celebrate Valentine's by going out to dinner, ordering take out or making their own meal.
75% Going out to dinner
13% Ordering take out
12% Making my own meal
#7. Product
Which items will you be purchasing for your celebration?
Candy & Chocolates – 82%
Flowers – 69%
Adult Beverages – 65%
Cards & Paper Goods – 61%
Jewelry – 49%
Who will you be purchasing Valentine's Day gifts for?
73% – Partner or significant other
18% – Family
8% – Friends
#8. Price
Shoppers want to spoil loved ones without feeling heartbreak in their bank accounts.
Where will you look for savings?
93% of consumers say cost savings are important on the valentines day gifts they choose to purchase
72% – Online (Digital Ads)
21% – Preferred Grocery Loyalty program
4% – Retailer's Circular
3% – Newspaper inserts
How much do you plan to spend on your Valentine's Day celebration?
$0-$50 83%
$50-$100 24%
$101-$200 25%
$201-$500 36%
Over $500 12%
#9. Positioning
Where will you be looking for inspiration for gifts, entertainment, and hosting?
Instagram – 68%
TikTok – 58%
YouTube – 53%
TV-News – 41%
Pinterest – 34%
Blog Posts 32%
#10. People
The customer experience shapes purchasing behavior, today, more than ever.
Develop the habit of thinking in terms of the people inside and outside of your business who are responsible for every element of your marketing strategy and sales activities. Do you have the right people to implement your marketing plan?
Your ability to select, recruit, and retain the right people, with the skills and abilities to do the job you need to be done, is crucial to getting more love from shoppers, on Valentine's day and beyond. We can help.
Learn more about how to structure and support your team for growth.