of employees believe that socially active
executives are better equipped to lead companies
You're the face of the company.
Your executive brand is an effective way to profoundly, positively influence perception and business performance, according to the McKinsey Global Report on unlocking value and productivity through social technologies. 
agree brand image is enhanced when a company's executive leadership participates on social media.
believe that executive leaders should use social media channels to improve engagement with employees.
would prefer to work for a company whose executive leadership is active on
social media.
Building your executive brand online is no longer optional
At Reactionpower we work with senior leaders who want to raise the bar with their executive brand but lack time to implement or consistently curate and create relevant, compelling content.
We'll help you:
Take part, take control and connect on your terms
Create effective executive profiles on social media and manage your reputation.
Demonstrate your leadership in the digital age
Show that you're innovative by being socially engaged and offer an authentic face to your company.
Accelerate your business relationships
Connect with your top customers, prospects, peers or employees effortlessly and attract talent.
Founder . CEO . President . Senior VP . Executive Director . Managing Partner . Director
If you're in any of these roles (and this list is not exhaustive) people want — often need! — to hear from you. As an executive, you've got a compelling story to tell your stakeholders, employees, peers, prospects, and more.
Are you ready to take control of your narrative?
Your executive brand is your calling card – whether you want an executive board position, employee buy-in, a successful startup product launch, speaking engagements, a new venture, career transition, or have a company mandate to participate on social media. We excel at empowering executives to clarify and convey their unique value in an authentic, credible way. Our insights are based on our deep understanding of executives' priorities and constraints.
Executive Branding Services
Your executive branding services with Reactionpower include big idea thinking powered by data-based insights to delight your target audience, extend your reach and enhance your business based on your needs. Our team of professionals will craft you a compelling, strategically positioned personal brand that is:
Enticing
to the audience you want to attract
Distinctive
from the competition in your market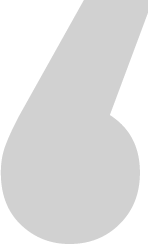 Embracing social media isn't just a bit of fun, it's a vital way to communicate, keep your ear to the ground and improve your business.
Sir Richard Branson, Founder & CEO, Virgin Group

In today's world, social media is a key communication channel. 
Leading executives consider participation on these networks as fundamental to their role. In the face of crisis, people have a psychological need to access leaders. And with a fractured, semi-remote workforce becoming the norm, more employees rely on social media for information. This has accelerated the need for executives to be proficient in digital and social channels.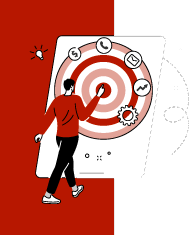 Build Your Visibility With Credibility
Your participation on social media will be welcomed by your employees, peers, prospects, and other stakeholders. Your executive brand demonstrates your interest in being connected, staying current, and making your mark where the newcomers to your industry will be.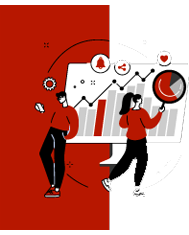 Accelerate Business Through Relationships
As a leader, you have a clear opportunity to bring a sense of proximity and connection to your company's professional and customer ecosystem with brief high-value interactions on social media.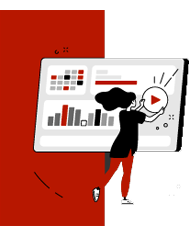 Get & Share Insights
90% of C-suite executives and 88% of business decision makers believe that their respect and admiration of an organization increased after engaging with thought leadership content, according to the Edelman-LinkedIn B2B Thought Leadership Impact Study. Build your executive brand to be a voice of your industry and stay on top of the leading ideas.
Lead in the digital age!
We'll align your objectives and constraints as a top executive right from the start, setting you up for success, while also managing any potential risks associated with your social media presence.
What's your executive brand online saying?
are more likely to trust a company whose executive leadership team engages with social media.
score social executives higher on empowering others, communication, influence, networking, and decision making.
are more likely to buy from a company whose values show through executive participation on social media.