1. Instagram Reels
Instagram Reels is a content format that allows you to create and share short engaging videos of up to 60 seconds long. Reels can include multiple video clips, filters, captions, interactive backgrounds, stickers, and more.
Reels can be featured in Explore and shared to Stories. When you upload a Reel, you can also choose to post it to your Feed. All the Reels you create will also appear in a dedicated section of your profile, similar to IGTV posts
How to create an Instagram Reel
Instagram Reels gives you two options to create a Reel:
Press and hold the record button to capture footage.

Upload video footage from your camera roll.

Hold your phone vertically while recording IG reels.
Instagram Reel dimensions
If you're creating Reels on the go and recording your video footage using the Reels camera, you don't have to worry about file size. However, if your Reels include uploaded footage, make sure your files are the correct size and dimension to avoid a blurry and awkwardly cropped end product.
Like Stories, Reels are a mobile-first format, designed to take up a full vertical screen. The recommended aspect ratio for Reels is 9:16 and the recommended size is 1080 x 1920 pixels.
When to use Instagram Reels
The Reels feature is great for getting your content in front of a new audience. High-performing Reels content can help you attract new followers and even bring in new customers if you're posting from a business profile.

If you're going to post on Reels, make sure your content is attention-grabbing and engaging. Reels viewers are looking for content that's either entertaining, educational or a mix of both, and they're attracted to authentic content over content that looks scripted or formal
2. Instagram stories
Instagram story dimensions are 1080px by 1920px. This means that your image or video should be 1080 pixels wide and 1920 pixels in height. This is also known as an aspect ratio of 9:16.
If you use your smartphone to take a portrait photo or video, it will perfectly fit the Instagram Story dimensions of 1080px by 1920px.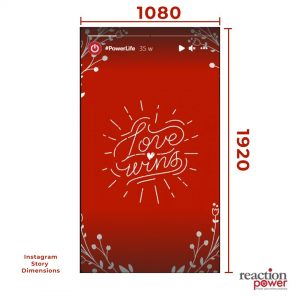 If you're looking to add a simple photo or video to your story, all you have to do is film a vertical video or take a vertical photo with your camera or smartphone.
If you shoot an Instagram Story video using your phone, the dimensions will likely be 1080 pixels by 1920 pixels, so you don't have to resize it. If you're using another camera or a custom setup, however, you'll have to use a video editing app to make sure your video has the correct dimensions.
When to use Instagram stories
A Story video is great when your content is slightly more casual or underproduced. 

When you're hoping to drive engagement with your current followers, as you can take advantage of other Story features like reaction emojis or polls. It offers a more interactive environment than many of the other options.

Use stories for videos that have time-sensitive info, like a video announcing a giveaway or counting down to a new product. These types of content might feel outdated if someone came across them on your main page after the fact, so the way Stories disappear after 24 hours is a benefit.

Use Stories to break up videos that might have met the criteria for a Post video but are longer than 60 seconds long. By cutting your full video into 10-second clips, you can post videos that hit longer than a minute and allow followers to tap through the pieces in sequence. 
3. IGTV
While Instagram limits the duration to 60 seconds for Feed videos, this feature allows you to upload up to 60 minutes of video from the web (or 15 minutes if you upload from mobile). This gives you a much better opportunity to tell engaging and compelling stories through video.
Initially debuting with only portrait videos, Instagram has since expanded the feature to allow landscape options — opening up a ton of new ways to create IGTV content. 
Here are a few ideal post dimensions to keep in mind: 
Portrait IGTV: 1080 x 1920 pixels, 9:16 aspect ratio

Hold your phone vertically while recording IGTV videos

Landscape IGTV: 1920 x 1080 pixels, 16:9 aspect ratio  

Hold your phone horizontally while recording IGTV videos

IGTV cover photo: 420 x 654 pixels, 1:1.55 aspect ratio
When to Use IGTV
IGTV is especially useful for content that is educational, like how-to videos or product demonstrations. On IGTV, you have a captive audience that typically knows they're about to watch something that's a little more in-depth than the other options on this list, so you can get away with content that's slightly more of a time and attention investment.

If you have a video that's over 3 minutes long that would be difficult to parse into stories, IGTV is great. If you have content that might be suited for Reels but is a little more produced and formal looking, IGTV is a great alternative
4. Instagram Live
Instagram Live lets users stream live videos to their followers through Instagram Stories. It's great for connecting directly with your audience.
Hold the phone vertically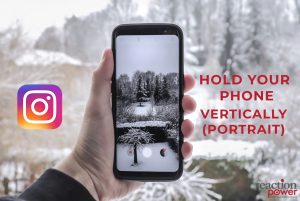 When to use Instagram Live
When promoting a product or a service, going live is a great way to do a demo or a tutorial for your followers so they can see everything first hand and in real-time.
When you have a limited time offer on something you're currently promoting. Let your followers know (and create excitement!) by doing a live announcement.

Do a live Q&A so you can give immediate answers directly to people who have questions, which in turn could influence someone to make a quicker decision about your brand, product, or service.
5. Facebook Live
For Facebook live, hold your phone horizontally.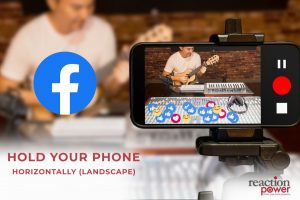 When to use Facebook Live
When you want to connect with your audience in the most genuine, human way possible

When you want

To Answer Questions in Real-Time

When you want

To Showcase an Event to People Who Couldn't Attend In Real Life

When you want

To Share Industry-Related Updates

When you want t

o Show Off Your Company Culture
6. YouTube Live
YouTube – Hold your phone horizontally when going live.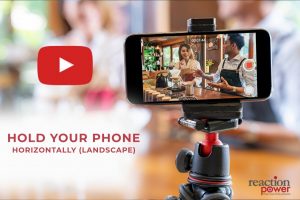 When to use YouTube live
When you want to bring viewers together in real-time to learn, discuss and to form new social communities.
7. LinkedIn Live
LinkedIn Live allows you to build deeper connections and drive more engagement with the world's largest professional community.
Width and height: 1080 pixels x 1920 pixels

Hold your phone vertically for LinkedIn live videos

Image ratio: 9:16
When to use LinkedIn Live
Showcase and sell your products and services on LinkedIn live

When you want to establish your company as a thought leader on LinkedIn live 
SUMMARY
Social media
Feature
Dimension
Length
How to
Phone position
When to use

Instagram

Reels

1080 x 1920 px

60 sec

Press and hold the record button to capture footage.

Upload video footage from your camera roll.

Vertical

Sharing short engaging videos of up to 60 seconds long.

 When getting your content in front of a new audience. 

When content is either entertaining, educational or a mix of both. Authentic content over content that looks scripted or formal

Stories

1080 x 1920 px

15 sec

Tap the camera icon, once the story camera is open, take a photo or record a video.

Vertical

Slightly more casual or underproduced content.

When

engaging with your current followers.  

When you want to share videos that have time-sensitive info, like a video announcing a giveaway or counting down to a new product. 

When sharing videos that might have met the criteria for a Post video but are longer than 60 seconds long. 

IGTV

1080 x 1920 px or

1920 x 1080 px

60 min-web & 15 min-mobile

Vertical or horizontal

When sharing educational content.

When sharing long, produced, formal looking content

IG Live

1080 x 1920 px

Swipe right from anywhere in Feed to open the Stories camera.

Scroll to Live at the bottom of the screen to start Live.

Vertical

When you want to

r connect directly with your audience.

When you want to do a demo or a tutorial for your followers.( promote product/service)

When you have a limited time offer on something you're currently promoting.

When you want to do a quick live Q&A.

Facebook

Fb live

1920x 1080px

Navigate to the Page, group, profile or event where you want to publish your live stream.

Tap the Live button at the bottom of the post composer.

Add a description to your video. …

Tap Start Live Video.

Pre-record and stream live. 

Horizontal

When you want to connect with your audience in the most genuine, human way possible

When you want

to answer questions in real-time

When you want

to showcase an event to people who couldn't attend in real life

When you want

to share Industry-related updates

When you want t

o show off your company culture

Youtube

YT live

Select the camcorder icon.

Select Go Live.

Add your title and privacy setting.

Select more options to add a description.

Press show less to exit and select next. …

Tap share to share the link on social media.

Select Go Live.

Horizontal

When you want to bring viewers together in real-time to learn, discuss and to form new social communities.

Linkedin

LI live

1080 x 1920 px 

Open Switcher studio and navigate to the

Outputs

tab.

Tap

LinkedIn L

ive

.

Add a description for your livestream, select your audience and your region.

Choose your stream quality based on the strength of your Wi-Fi. 

Tap the orange

Go live now

button. 

Vertical

Showcase and sell your products and services on LinkedIn live

When you want to establish your company as a thought leader on LinkedIn live