COVID-19 has forced us as humankind to change the way we live our lives. As we live through the third year of the pandemic, the increase in social awareness is apparent. Many organizations have had to significantly alter policies and initiatives to adapt to the needs, expectations, and demands of their employees, consumers, and stakeholders who have had to reorient to a more digital environment. This article will delve into three strategic actions for success that you can adapt to ensure your organization's marketing thrives.
As a CMO, you've spent this period adapting to changes and accelerating solutions to problems while staving off team burnout. Based on their data-driven research, Gartner Leadership Vision has shared top-level guidance to leaders such as yourself and their teams on where to focus marketing efforts for success this year and beyond. This guidance provides valuable insights and learning that will help you focus discussions with your teams, peers, and other leaders, so you can quickly and effectively diagnose priorities and actions for your strategic plans in 2022 and beyond.
Based on current trends, here are three strategic actions for success to take with you into the rest of 2022 and beyond.

Listen to The Podcast
Prepare For The Future Of Hybrid Marketing
As digital marketing becomes more layers and channels become more personalized, now, more than ever, CMOs must look to adapt to the future of hybrid marketing. The following are three key measures to help you and your team adapt to this new trend of marketing: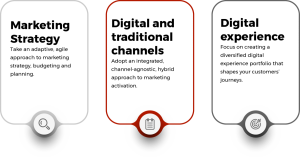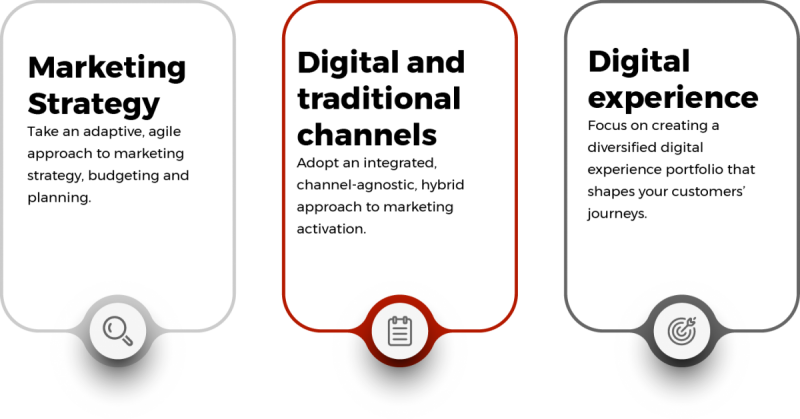 CMOs, who are increasingly aligned with digital marketing leadership in the organization, need to take an adaptable, integrated approach to channel planning, orchestration, and optimization. However, this does not mean that you should divert your entire budget to purely digital channels. Similar to the future of work, the future of marketing is hybrid. For your organization's marketing to thrive in this new reality, your online and offline efforts must be well-coordinated and interconnected. Eliminating the barriers between your digital and traditional media budgets, planning as well as activation is crucial. For more on the changing role of CMOs and how to overcome the challenges present in that role, click here.
Redefine Your Role As CMO To The Organization's "Chief Connecting Officer"
As a CMO, it is important to redefine your role to create complex marketing connections that create value. Your position enables you to act as the de facto customer champion. You can collect data and insights that both capture and anticipate your client's needs and even reflect their values. You also have a unique connection across a complex set of channels that build engagement and deliver value.
In your role, you have the power to build connections between company employees and the brands that represent them. Create brand experiences and messages that reflect the values and aspirations of your people.
In many ways, you are the gatekeeper of your organization's brand — more important in times of volatility than ever before. Through your expertise, you are the outward expression of the enterprise to all its audiences.
You also connect and collaborate with partners, both inside and outside the organization. This includes agencies and colleagues in sales, service, IT, and finance. Through these relationships, CMOs build a powerful coalition to deliver the best experiences and value for the customer and the enterprise.
Build Holistic Marketing Measurement
Chief Marketing Officers need to take measures to bridge measurement gaps, making a clear connection between marketing's investments, activity, and enterprise value.
However, this extends to more than just diligent measurements. In complex organizations, with overlapping roles and responsibilities, clearly defining marketing's value is based on collaboration and consent. You must invest time in agreeing with your organization's stakeholders about the connection between goals, outcomes, behaviors, and activities.
To accomplish this, you should focus on both return on investment and return
on objectives. Specifically, you need to gain agreement on:


If you are looking to improve your marketing strategy and learn more strategic actions for success as a CMO, we can help. To learn more about how we can help you achieve your marketing goals, book a strategy session with our expert team.