Why build a board-ready executive brand?
Landing a seat on a public or private corporate board ranks high for most senior executives. Yet some discount the impact of executive branding. That's a mistake.
An online executive brand is essential because few companies advertise board opportunities. While networking is a crucial component of securing a board position, your first impression as a candidate is often your online brand. Here's why:
Current board members review LinkedIn profiles and look for common connections as they assess potential directors.
Current board members check out your profile and activity to vet introductions and support peer requests.
Executive search firms typically rely on LinkedIn to identify and qualify potential candidates for board positions.
Optimize Your Executive Brand for Board Positions
To optimize your executive brand for board positions, it's important to focus on building a strong, professional reputation and showcasing your qualifications. Start by identifying the key skills and experience that are most relevant to the board positions you're interested in and highlighting them on your LinkedIn profile.
Your board-ready executive brand should bring clarity to your accomplishments, highlight your ideal role on the board and show current board members where you can add the most value.
Board members will need to see:
your domain expertise
your ability to understand complex business issues
strong fiscal accountability and effective governance
Understand— and showcase— what boards value. #ExecutiveBranding
Click To Tweet
The bar for "board readiness" has never been higher.
Your online executive brand needs to show how you:
drive thought leadership
inspire and guide others
keep up on industry trends
express your opinions clearly
maintain collegial relationships
generate sustainable long-term performance
You may need executive brand services to help you take control of your narrative, signal your potential, and align with what boards are looking for. Our team can help you stay up-to-date on the latest trends in your industry as well as be prepared to speak intelligently and thoughtfully about them.
How to Build a Board-Ready Executive Brand With Your LinkedIn Profile
As a board candidate, your LinkedIn profile must include these essential elements:
Professional photo and cover image
Headline that includes the keyword "board"
Focused, concise summary of your experience
Examples of thought leadership and governance
Current and previous board experience, including non-profit work in the Experience or Volunteer section
Even if you haven't served on a board before you can use your experience to showcase your boardroom capital which includes:
your fluency in financials
your leadership and influence
your strategic ability to see key trends and translate them into business impact
Adding awards, bylined articles, speaking engagements, and media mentions to your LinkedIn profile can illustrate great board credentials.
Build Your Executive Brand to Land a Board Seat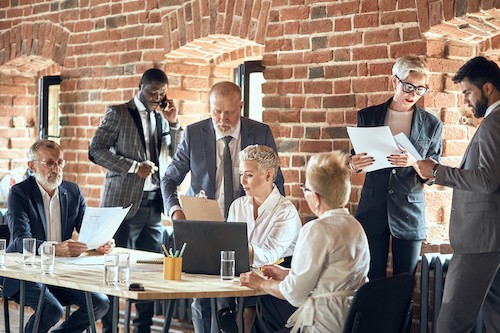 Building your executive brand will help you get clear on your contribution to the conversation and attract opportunities that align with your interests. Outlining your capabilities can help you showcase your experience from hands-on management to oversight, diligence, and resourcefulness.
Most boards also appreciate the cross-pollination of ideas and look for leadership skills that translate from one field to another. Take time to translate your accomplishments into a language that is accessible outside your sector. Avoid industry jargon. Help current board members understand how your experience will add value.
If you aren't already investing in your executive brand or you are simply looking to elevate your efforts, there is no better time than now. Our executive branding team will work with you to develop effective strategies to help you exceed your professional goals in 2023.