As a business leader, it's important to build your executive brand because it helps establish your credibility and reputation, which can influence the perception of your company and its products or services. A strong executive brand can also help attract and retain top talent, as well as facilitate business development and investment opportunities.
Additionally, a well-defined executive brand can help you communicate your vision, values, and strategy more effectively, both internally and externally. In an increasingly competitive market, a strong executive brand can give your company a distinct advantage over your competitors.
Executive LinkedIn optimization can help you demonstrate your leadership, control your image, and connect with other leaders in your industry.
Here are 5 practical ways to improve your LinkedIn profile and personal brand as an executive leader.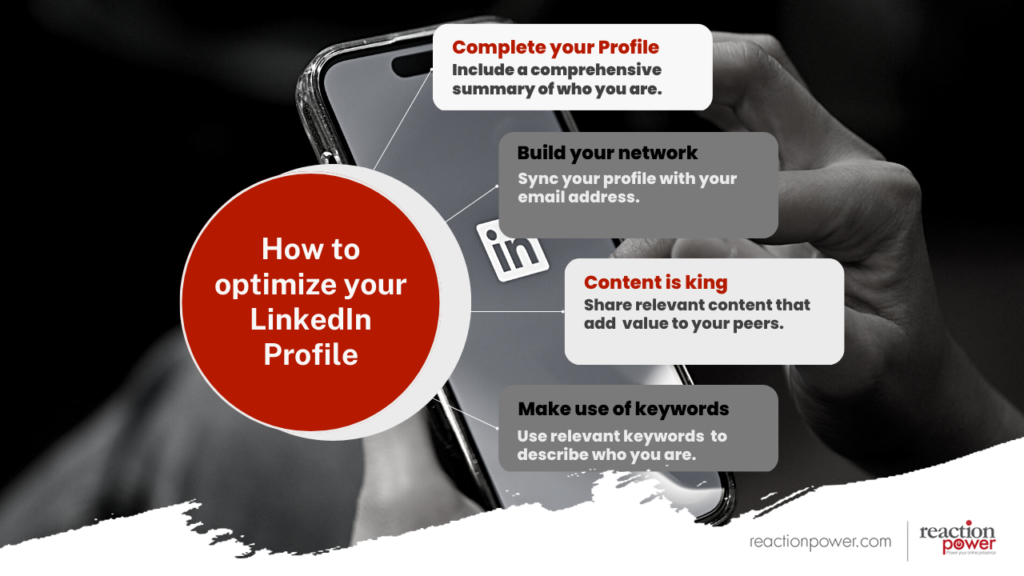 1. Complete Your Profile
First impressions matter.
Your profile picture is the first visual component to address during your executive LinkedIn optimization process. This is your calling card on LinkedIn. We are visual beings. Your profile picture is often the first thing people see on your account, and this can have a hand in how they perceive you from the start.  Use a recent, high-resolution photo of yourself. According to LinkedIn, aim to have your face fill about 60% of the space of your professional LinkedIn profile photo. Crop the picture from the top of your shoulders to just above your head so that your face fills the frame. 
Your background image is the second visual component to address during your LinkedIn profile optimization process. A good one grabs people's attention and can be a great way to express a little more about yourself and what matters to you. An executive brand photoshoot is a great way to get high-quality photos that tell your story visually.  
A comprehensive summary is crucial for a professional LinkedIn profile. Use this section to effectively convey your narrative, rather than simply listing skills or past job titles. Emphasize the impact and value of your skills to showcase their relevance.
2. Build Your Network
Once you're happy with your account's visual elements and summary, it's time to focus on growing your network. The easiest way to get started with this is to sync your profile with your email address. This will enable LinkedIn to recommend people to reach out to. Effective networking can help you connect with relevant people as well as expand your reach and visibility. 
3. Create Content Consistently
Having a network of connections on LinkedIn is great, and it is also important to have an active role in that network. The fastest and most effective way to do this is by sharing content that is relevant to both you and your peers in a way that adds value to them. Share industry-related articles, blog posts, and updates that showcase your expertise and provide value to your network.
Interacting with people within your network is as important as publishing or sharing content. By adding comments to your shares, you can increase the visibility of your content and explain why it matters. It's also a great way to share your opinion, start conversations with people in your network, and establish yourself as  a thought leader.
4. Make Use Of Keywords
One of the most important things you can do in your executive LinkedIn optimization process is to use relevant keywords in your summary and updates. If you don't have a large amount of content, you can add relevant keywords so people can find your profile easily when they are looking for someone with your expertise and experience.
If you have a lot of content, it's time to use keywords strategically. For example, if you're an executive at a software development company and a cybersecurity expert, then use both of those as keywords in your profile and any other relevant keywords that describe who you are and what you are good at. 
5. Measure Your Performance
Once you start sharing engaging content and using keywords, the next step is to measure your performance. LinkedIn's analytics tools provide valuable insights into how your content is performing on the platform. By tracking your engagement, reach, and followers, you can understand how your posts are resonating with your audience and identify areas for improvement.
You can adjust your strategy by regularly monitoring your performance on LinkedIn. For example, if you notice that a particular type of content is generating more engagement than others, you may want to consider creating more of that type of content. On the other hand, if you notice that your reach is low, you may want to consider adjusting your targeting or experimenting with different posting times. Using LinkedIn's analytics tools, you can optimize your presence on the platform and increase your chances of achieving your goals.
Talk to us today about your optimizing your executive LinkedIn profile and general online presence – our expert team is ready to build your brand and establish you as an industry thought leader within the digital realm and beyond.